(267)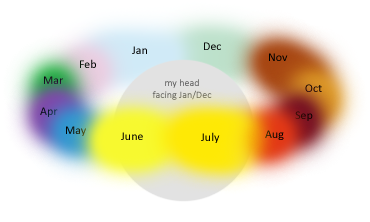 "Synesthesia is an anomalous blending of the senses in which the stimulation of one modality simultaneously produces sensation in a different modality. Synesthetes hear colors, feel sounds and taste shapes" says the Scientific American. Image borrowed from this article on the topic.
(270)
Watch her antsy TED-talk here.
Wang & Söderström: Together in an ecology of technology
Talk
Chapter 3: Community
April 15th 2023
---
Returning to Post Design after their last appearance 6 years ago, Copenhagen locals Anny and Tim of design duo Wang & Söderström began by exploring how digital technology has changed over their lifetimes. Growing up in a time when phones had cables and stayed within the home and internet piracy allowed for experiments with landscape building software- they reflect on how digital technologies are now enmeshed with everyday life. Finding the glassy phone screens and artificial renders in recent years distinctly lacking in texture and emotive quality; Wang and Söderstrom have set themselves the task of exploring a more sensorial digital future.

Exploring the phenomenon of synethesia, Wang & Soderstrom challenge the prioritisation of sight as the most important sense, exploring how the other senses can combine to create a richer experience. In recent and ongoing projects the boundaries between touch, taste and sound blur together to generate insight on our dependence on different senses. For example, the front cover of their recently published book Royal Chambers appears almost invisible to the eye, but with embossed detailing offering an invitation to sense the book through touch instead.
The phrase 'royal chambers' comes from the nursery cell within an ant colony- an ecological structure that served as creative inspiration for the duo during a time of transition as they became parents and moved house during the pandemic. In a period of personal change both biologically and emotionally, they turned to binary life forms for motivation, examining how such lives are lived as networks and taking solace in observing the ripple effect of small changes that grow to affect the entire network, link by link. Drawing on the research of ecologist Ernst Haeckel and Deborah M Gordon, Wang & Soderstrom consider the "ecology of technology" in our communities of the future, reflecting on the entanglements of themes such as toxicity, pollution, accumulation, extinction, infections, machine learning, planetary ecology and data mining.
Their talk at the Tangle honestly considered what it means to collaborate and to have the confidence to start self initiated projects, with Wang & Soderstrom sensitively exploring how their personal connection and professional work weave together within their daily design practice. Offering a chance for the audience to reflect on their connection to the tactile world we live in, they posed the following questions to the audience in Copenhagen- and we invite you, dear reader, to consider your own responses to them too.
Which sense is the most important for you?

Smell
Touch
Hearing
Sight
Taste
When was the last time you hugged a tree?

Last month
Last year
Last decade
Way back or never done it
When was the last time you wrote a letter with pen and paper? (a letter, not a shopping list or note.)

This month
This year
Last decade
Way back or never done it
Back to grid