(293)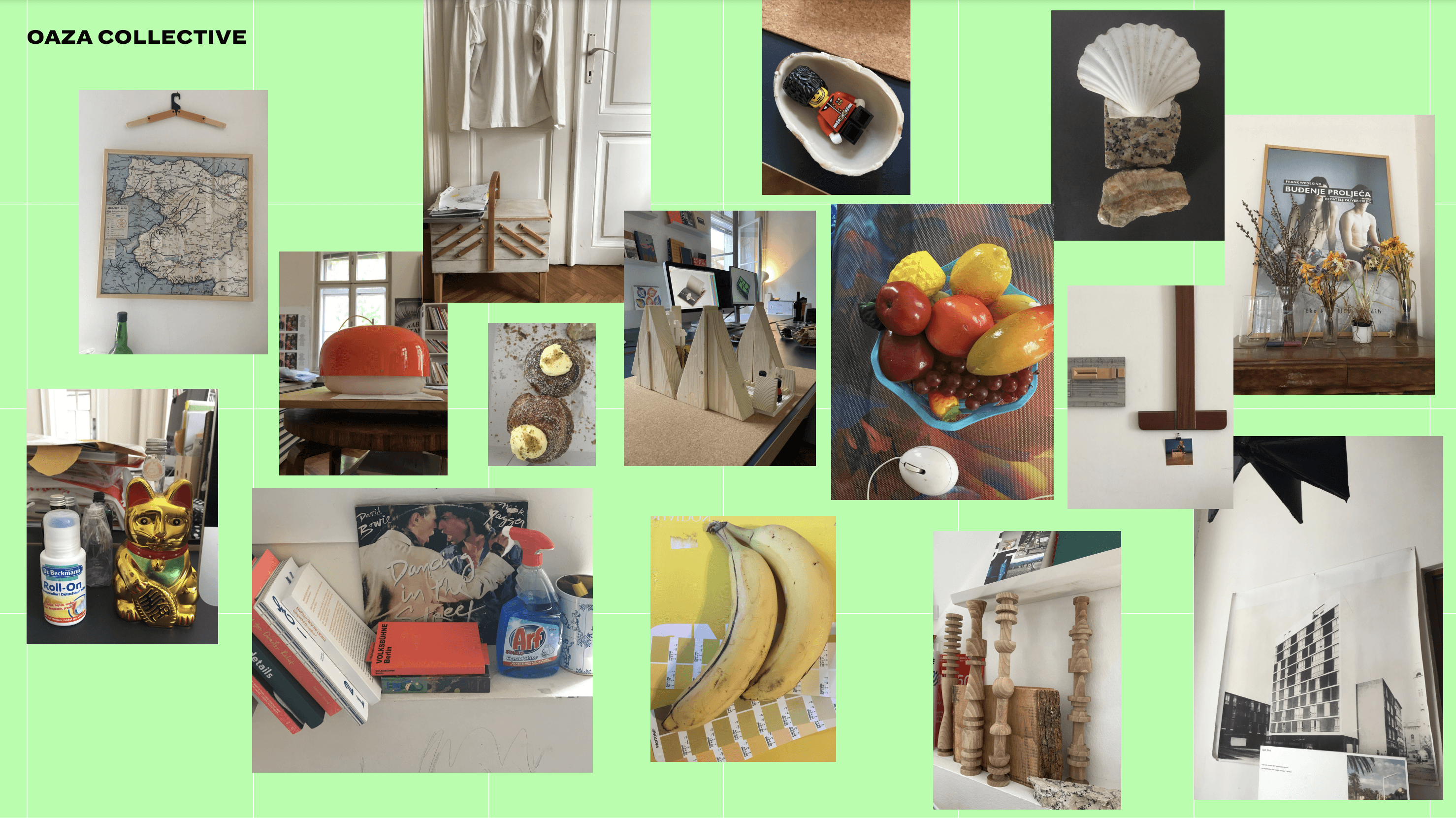 Slide from Oaza's presentation at the Tangle in Copenhagen
(294)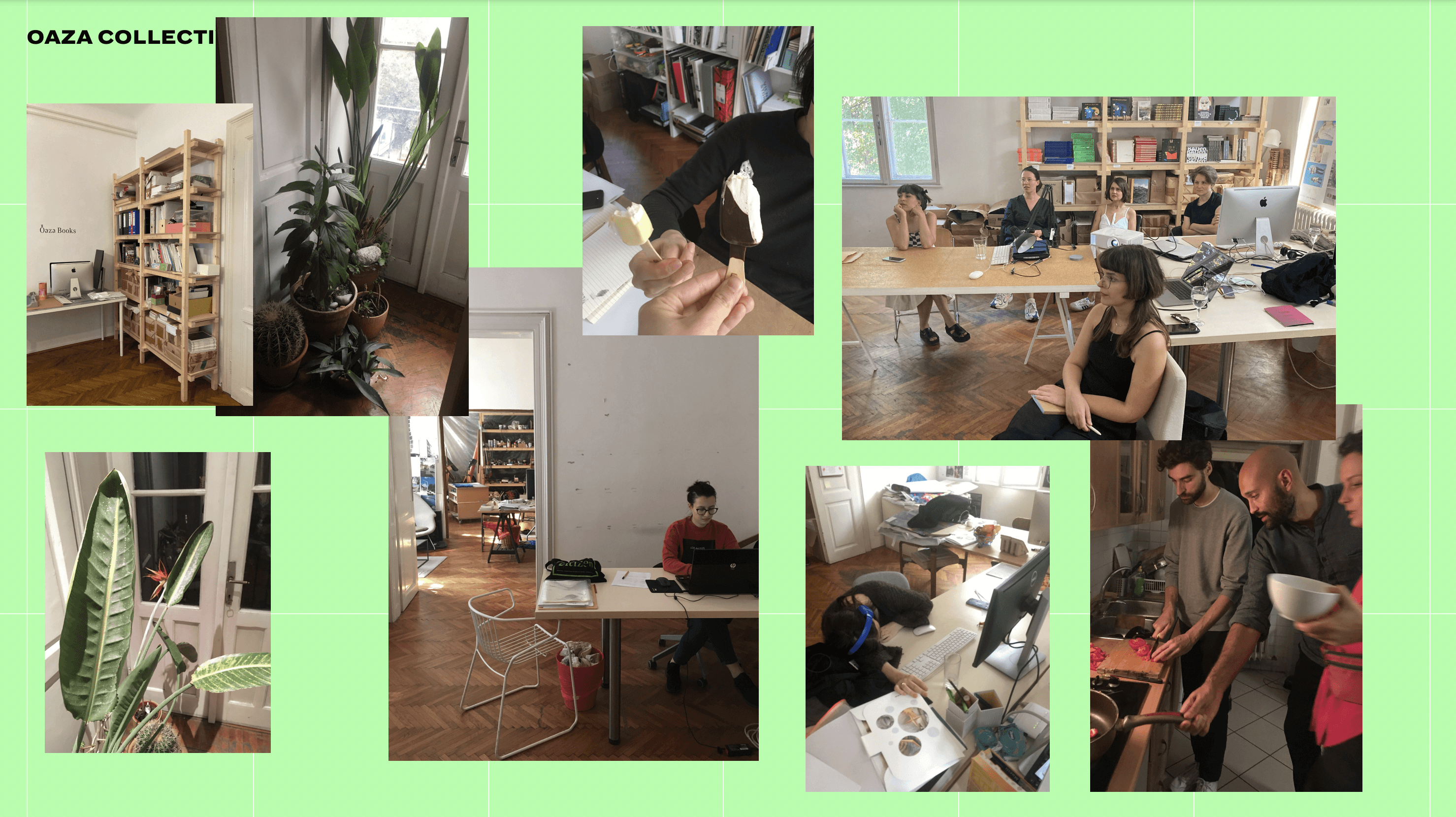 Slide from Oaza's presentation at the Tangle in Copenhagen
(295)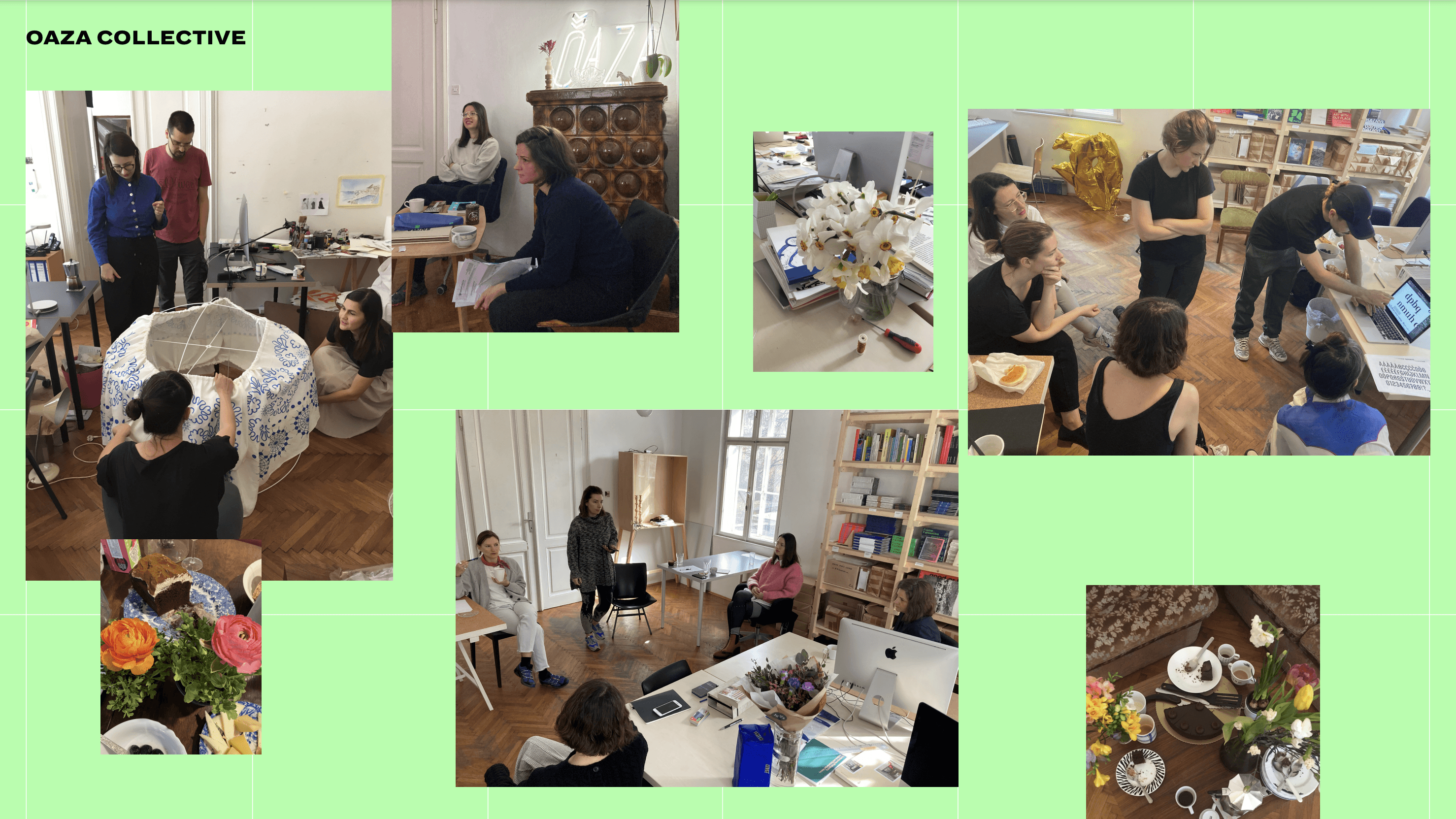 Slide from Oaza's presentation at the Tangle in Copenhagen
(296)
Masa holds the status of "Independent Artist and Freelance Designer" meaning most of their projects are non-profit and contribute toward Croatian culture.
(298)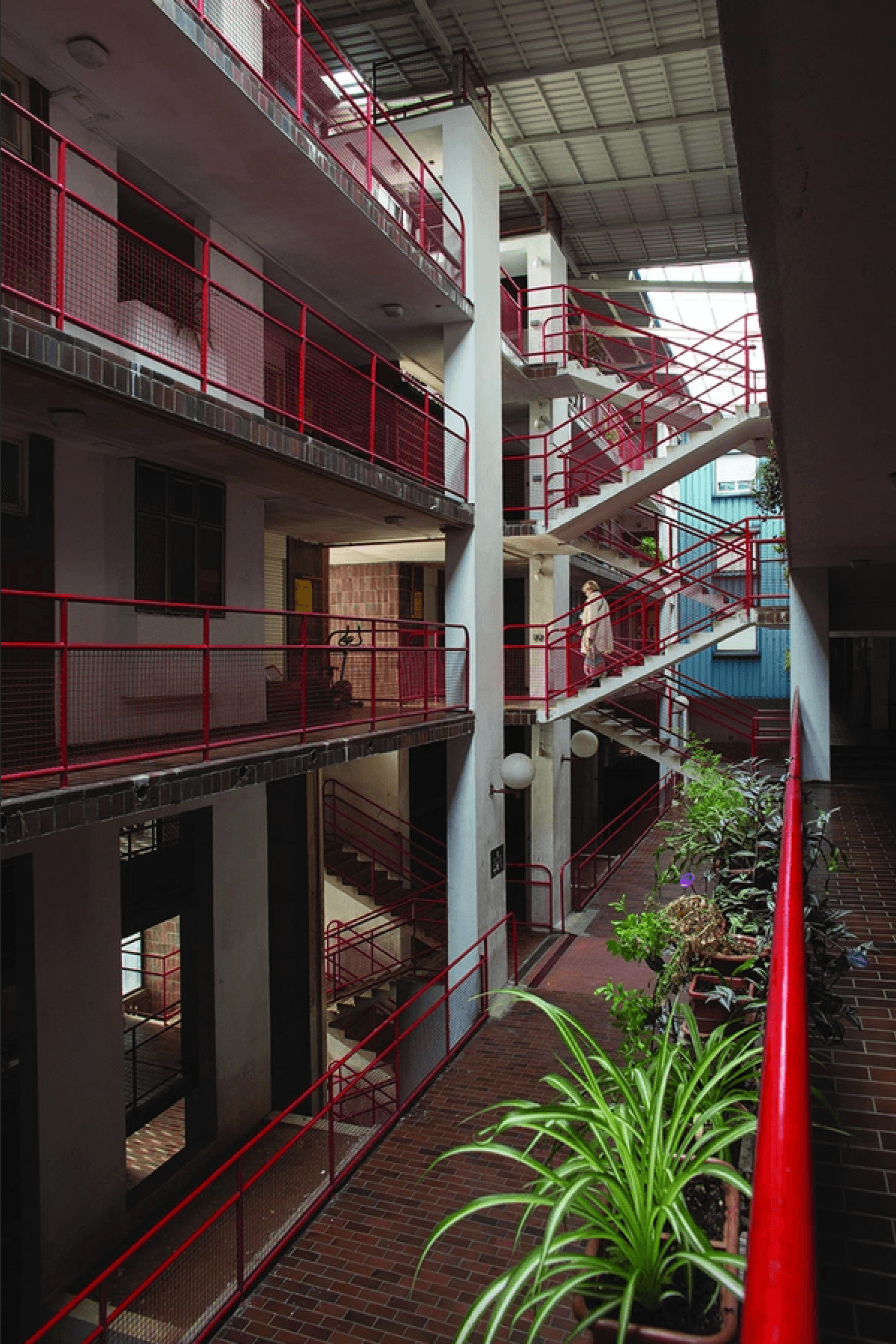 More in this case study.
(299)
Such as art history museums and archives.
Oaza Kolektiv: Designing with/for friends and neighbours
Talk
Chapter 3: Community
April 15th 2023
---
Oaza translates to Oasis in Croatian, and an oasis is what has manifested within the design collective of Maša Poljanec and her collaborators Nina Bačun, Ivana Borovnjak, Roberta Betty Bratović, Tina Ivezić and Maja Kolar. Over a decade after studying together in Zagreb University, the five women formed a collective that 'was never planned, it just happened' where informal, close relationships distilled organically into sustained professional practice that resists hierarchy and embraces unity and respect. Acting as a metaphor for their collective practice, their studio is a free form, homely space where their individual characteristics are accounted for. This space makes accommodations for the fact that working together as a collective is not always an easy task, with one office assigned to the introverts, and another for the extrovert- and many self-initiated projects emerge from "ugly couch" conversations.
This sensitivity towards one another extends outwards to their local community and the design projects they undertake. When Oaza noticed that many of the local businesses on their street were closing and the liveliness was beginning to slowly recede, they began to research why by engaging in conversations with their neighbours, uncovering previously hidden stories of the street's residents and workers. Such conversations served as a catalyst for a new educational and nano-tourism platform designed by Oaza that helped generate dialogue around the future of the street, and reinvigorated local knowledge of familiar places. It was an exercise in treating the city as a laboratory and design as a strategic tool for building connections between place, memory and the future. This pattern that is traceable in other projects such as the Krnjevo Neighborhood analysis project (red vs blue building), and especially the self initiated Designers 1930 — 1980: Context, Production, Influences that documents and studies the local female design scene of Croatia. It seems Oaza have become attuned to spotting something missing, something forgotten, or something invisible in their locality that they then work to fill through their intuitive archival approach; a practice that sees them invited into spaces usually reserved for historians and academics to share their findings.
Throughout her talk, Maša conjured up her collaborators Nina, Ivana, Roberta, Tina and Maja into being at the Tangle through the voice of the audience, entering into a dialogue around collective work or simply interrupting Maša to ask questions or make statements related to their projects. Here, we have extracted this four-woman-play from Maša's script at the Tangle, to serve as a record of our collective conversations in Huset. Check out the video to see it in action.
IVANA: HI!
NINA: HELLO!
MAJA: HI THERE
BETTY: HOW ARE THINGS?
TINA: RELAX
IVANA: THE COLLECTIVE WAS NEVER PLANNED, IT JUST HAPPENED
TINA: WHAT ABOUT MONEY?
NINA: WE FEEL FREE AND SAFE IN OUR SPACE.
IVANA: OTHER SPECIES IN OUR COLLECTIVE?
NINA: MJAU!
TINA: THE NAMING OF THE COLLECTIVE HAPPENED SPONTANEOUSLY
BETTY: OAZA MEANS OASIS
MAJA: WE STARTED THINKING ABOUT GREEN COLORS, PALM TREES AND MASSAGE SALONS
IVANA: THE DYNAMIC IN THE COLLECTIVE IS CONSTANTLY CHANGING
MAJA: DESIGNING AND CO-CRATING WITH OTHERS IS NOT EASY
TINA: HOW ALL PARTIES SHARING GEOLOCATION CAN BENEFIT USING THEIR OWN KNOWLEDGE (AS A CURRENCY OF EXCHANGE) THROUGH VARIOUS FORMATS?
NINA: INFORMAL GATHERINGS, GET-TOGETHERS, CELEBRATIONS AND PARTIES ARE VERY IMPORTANT TO US
NINA: WE PRODUCE AND PRINT ALL OUR BOOKS IN A LOCAL PRINTING HOUSE
MAJA: WE WERE INTERESTED IN THAT COLLECTIVE IGNORANCE AND COLLECTIVE AMNESIA
MAJA: "THE ART GROUP IS NOT SIMPLY THE SUM OF ITS INDIVIDUAL PARTS, BUT DRAWS ITS CHARACTER FROM THE CREATIVE POSSIBILITIES OF DIFFERENT INTERACTIONS AND SYNERGIES"
—WHAT, HOW & FOR WHOM, COLLECTIVE CREATIVITY, 2005
BETTY: WE BELIEVE IN TRANSFORMATIVE POWER OF CHILDREN'S LITERATURE — IN ITS SIMULTANEOUS ACT AS ART, AS PEDAGOGY, AS ETHICS AND AS A POLITICAL PRACTICE
IVANA: THE STARTING POINT OF THE STUDY WAS THE ISSUE OF REALIZING FREEDOM IN THIS SHARED SPACE, AND HOW PEOPLE ADOPT AND SIMULTANEOUSLY EXPERIENCE THIS SPACE
TINA: THE SPACE OF COMMUNAL EXISTENCE IS PERCEIVED EXCLUSIVELY FROM THE PERSPECTIVE OF THE INDIVIDUAL, AS A PLACE IN WHICH THE INDIVIDUAL WILL INTERACT FUNCTIONALLY WITH OTHER INDIVIDUALS
BETTY: DO PEOPLE STILL WANT TO BELONG TO A COMMUNITY DETERMINED BY THE PLACE OF LIVING?
NINA: DO WE HAVE TIME? DO WE NEED TO FINISH THE PRESENTATION?
→ Find out more about OAZA Kolektiv via o-a-z-a.com and oazabooks.com
Back to grid